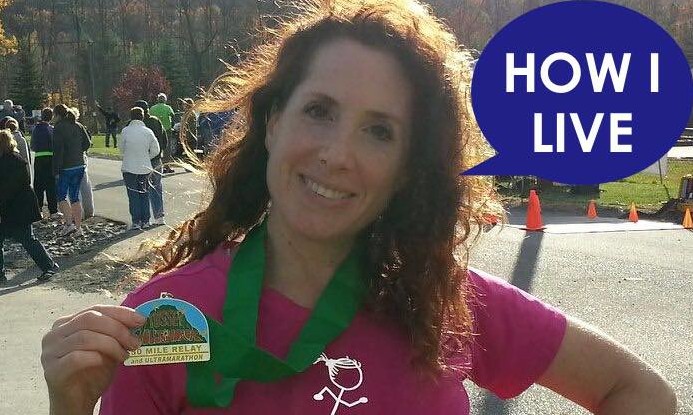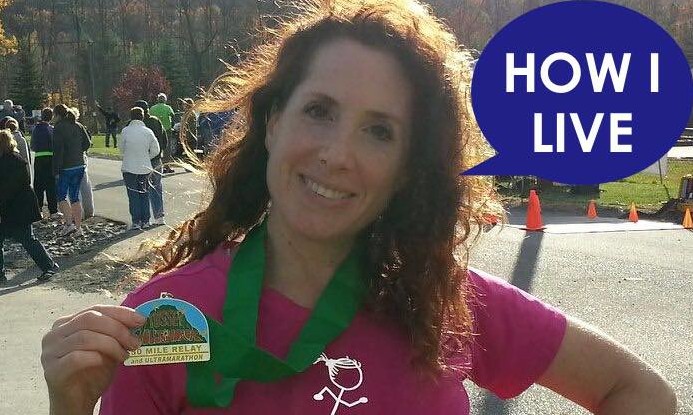 Victoria Arnstein is vivacious, funny, fit, and inspires others to join her in the pursuit of well being and good health! She can be found on Instagram at
@fruits4life
 or on
Facebook
 or on
YouTube
.
Location: Oahu, Hawaii
Current Craft/Gig/Work: Full-time Mother, Writer, Comedian
Number of Children: 3
One word that best describes how you live: Liberated
Current Mobile Device: Galaxy S4
Current Computer: Google Chrome Laptop
What is the first thing you do or think of when you wake up in the morning?
Drink water.
Walk us through your first hour of the day…
If it is a school day, I drink water, hopefully almost always eliminate some toxins from the day before, check emails and texts, scan through social media for updates from loved ones. Get workout clothes on, grab a fruit, bike ride or drive kid to school, choose what workout I am in the mood for and go at it..run, swim, stand up paddling, bike,  free weights, hike or all of the above gets me going! If there is no school, same thing, just no dropping kid off at school. My kids know I need to workout to be happy, so they don't get in my way before then…lol, I need a sweat fest daily or else.
What's your 'place of work' set up look like?
The outdoors is my place of work, and where I live, I clean and prepare meals.
What's your favorite way to stay organized?
I am not sure, since I am not that organized 🙂
If you were low energy before, what was the biggest change you made to have more energy?
Changed my diet from meat and dairy to fruit based and added more workouts in the sun.
What's your best energy-saving shortcut or life hack?
A half hour more of sleep from the night before.
What is your favorite go-to meal?
Fruit that is in season and ripe.
How do you stay fit?
I don't think exercise is a chore, as I love and can't wait to play outdoors. Whether it's swimming, running, stand up paddling, hiking, biking and just going for a walk listening to a good book or great music!
What is your night time/sleep routine?
About 10:30 I make sure to get really tired and then I am able to fall asleep deeply and quickly. I get up to pee about 2 times per night. Hopefully get back to sleep right away, if not, I get onto the computer or talk to a loved one who is on a different time zone for a big and then fall back asleep for a deep sleep and wake up in time for school.
What are you currently reading? Or watching?
I just finished listening to the book Unbroken by Laura Hillerbrand about a man Olympic runner named Louie Zamperini and his trials and tribulations when he was stationed in Hawaii for the airforce and his plane went down. He was lost at sea for 48 days only to get rescued by the Japanese enemy and was tortured as a POW for 2.5 years during wwII. Riveting book!
What apps or software can you not live without?

Audible and Spotify, Instagram, Facebook, and YouTube.
What is something that you happen to excel at, when it comes to parenting?
The ability to run long distances and swim long distances without stopping and still be a kick ass mom!
What is the best life advice you have ever received about being a parent?
Do one thing and do it well, it's not a race.
Fill in the blank: I'd love to see __________ answer these same questions.
Kate Pallardy, Michael Arnstein

Is there anything else you'd like to add that might be interesting for readers and fans?
If you can give yourself a gift, let it be the gift of ultra running training, it was the greatest way to endure pain in every other aspect of my life. I was able to tolerate pain and deal with problems that came my way better than I ever did before training for an ultra marathon. Also to eat a diet that does not tax your body so you have way more energy than you could imagine. Like fruits and veggies and keeping fat low.
The How I Live series asks athletes, heroes, experts, and flat-out high energy parents to share their diets, shortcuts, workspaces, routines, and more. Every week we'll feature a new parent and the recipes, habits, tips, and insights that keep them thriving.  Know someone that you want to see featured, or questions you think we should ask? Let us know.